This week we've added a "Download" option to the calendar page which allows you to download a printable (PDF) version of your attendance sheets and/or your daily schedule. This is ideal for teachers who don't have an iPad or computer in their studio and want to take notes throughout the day, then input them into My Music Staff later.
The PDF download includes whatever date range is visible on the calendar screen. To print a different month, change the calendar to that month and download again. If you want to print a week (or a day), change the calendar to that week or day view, then download again!
We've also added an option to display an event description directly on the calendar page. If you edit a calendar event, this checkbox is located directly below the "Description" field. You'd use this to place text right on the calendar without having to view the event "popup". Many teachers have "Reminder" or other special event categories that benefit from adding a short note that is easily visible.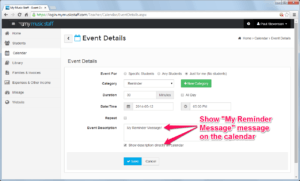 Next, we've changed the "Email" button on the student list page to a drop-down and added checkboxes beside the student names. This allows you to select a group of students (using the checkboxes) then compose an email to just those students, parents, or students and parents. For teachers with large studios this makes it easier to email all the students who attend a particular school or play a certain instrument.
On the invoice pages we've added the "Column Chooser" so that you can select which columns are visible. We've also placed the Invoice Number into its own column (it was previously combined with the description).
We've also fixed a number of minor internal issues and made several back-end optimizations to the My Music Staff interface. This reduces the amount of data the site uses and makes the site load faster.
Last, but not least: If you're a subscribed member, you can now download your My Music Staff billing receipts from the Membership tab on the Profile Settings page.