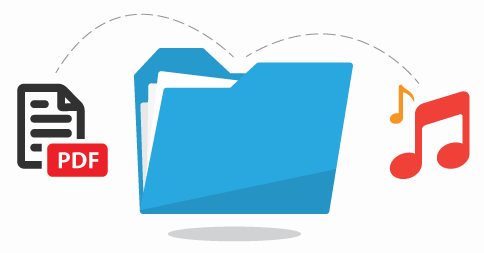 Hello Everyone,
This week we're excited to announce the added ability to create and organize your Download Library items into folders. This should make finding and navigating the items in your Download Library a little bit easier for your students and yourself. Folder access is automatically determined by the files within that folder. That means if a student isn't able to access any of the files contained within a folder, they won't be able to see that folder either. See the FAQ on working with folders in the Download Library.
Other Changes & Improvements This Week:
We've optimized the "Sign-Up" widget so that it loads faster. This change affects studios using a website NOT hosted by My Music Staff.
We've changed the "Birthday" picker on the "Sign-Up" widget so that it's easier to use (and it's now localized).
We've added a "Skype Username" field to the "Student Details", and we've added this as an optional field in the student "Sign-Up" page (and Sign-Up widget).
We've improved the layout of the invoices to provide a bit more spacing between line items. This change makes long invoices easier to read.
"Expanded" invoice format now shows canceled lessons (absent, non-billable). Billable absences are still included as usual. "Normal" and "Condensed" invoices are unchanged.
Now when you're adding repertoire to a student, the composer, genre, duration and other fields will auto-complete based if another student in your studio is also working on the same piece.
Now when you print a webpage from a My Music Staff hosted website, the background image is automatically hidden from the printed version.
We've enhanced the emails that teachers get when a student cancels a lesson through the student portal. Now a few sentences will be included at the end to indicate if a make-up credit was issued (or not) based on your studio cancellation policy.
We hope you enjoy this weeks updates! Have a great week.
– The My Music Staff Team
Did you know? In addition to creating invoices for lessons and other calendar based events, you can use My Music Staff to bill your students for books and other materials provided by your studio. Read the full FAQ.