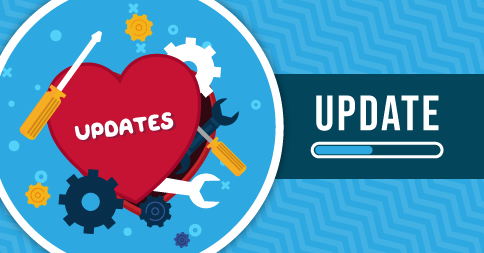 What's sweeter than a box of chocolates on Valentine's Day? A whole bunch of updates from your favorite studio management software two days after Valentine's Day – at least, we think so!
Upgrades & enhancements:
We updated the term "Lesson Note Attachments" to "Linked Online Resources" for better clarity.
We clarified the options in the unsubscribe pop-up window – the previous options could be confusing.
We added a "No Border" style to the table options in the text editor formatting toolbar. This makes it easy to remove any borders that are added when copying and pasting a table from another application.
We updated the order Online Resources spaces are displayed. Individual Teacher Spaces are now sorted alphabetically.
We updated the file chooser when linking resources to lesson notes to display Online Resources Spaces.
We updated the breadcrumb navigation for Online Resources so teachers can navigate back to their Teacher Space when linking a file to lesson notes.
Admins and non-admins with privilege to take attendance for other teachers can now link files when taking attendance on behalf on a non-admin teacher, and non-admin substitutes can now link files from their device.
We updated the logic that validates a teacher's access to take attendance for a specific event.
The In-Progress Repertoire list now includes the composer to differentiate between pieces with the same name.
Images dragged and dropped into emails will now be checked for file size to ensure the total email size doesn't exceed 20MB.
On student sign-up forms that collect billing information, we've set a default card type so the field doesn't remain unselected.
Our other fixes:
We fixed the User Privileges setting that allows non-admins to add/edit Online Resources in the Studio Space. In some cases it was displaying that the user had this privilege enabled when they did not.
We fixed an error that appeared when trying to take attendance for an entire day that had no events with attendees.
We fixed an issue on the attendance page that could display make-up credit attendance options for categories that didn't have make-up credits enabled.
Oops – we found a couple of typos! We updated the sign-up widget to say "cardholder" instead of "card holder" and corrected the misspelling of "existing" in the email templates pop-up.
We fixed an error that would prevent the information in the Student Portal Profile Settings from displaying once the page was revisited.
We fixed an error that displayed after linking a file to lesson notes when taking attendance in the Attendance & Notes tab of the student's profile.
We fixed a bug that incorrectly displayed the parent as having an adult student when the family contains an inactive student with the same name/email as the parent.
We fixed an issue in the Student Retention report so Lead and Waiting students are not showing as active.
We fixed a bug caused by uploading a student profile picture that was too large. It will now either upload successfully or display a warning that the file is too big.
We fixed an issue where animated GIFs on user websites were being resized, which caused them to stop being animated.
Did you know? Multi-teacher studios now have Teacher Spaces in their Online Resources! Read more about it here