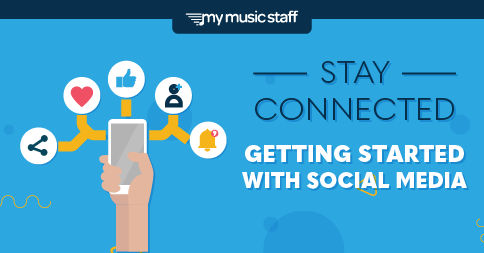 It's estimated that there are over 3 billion social media users all around the world. Obviously, it's become a very powerful tool, but social media for personal use is quite different from your business use. In order for it to work for your business, you need to have a plan.
Determine your goals
Take a look at your business goals. How can social media help you achieve those goals? For example, if one of your business goals is to increase the number of new students taking lessons, a goal could be to connect with new families on Facebook to market your services. If a business goal is to introduce group lessons, a social media goal might be showcasing your students on Instagram. Sharing videos from lessons lends to the goal of building a sense of community between students.
Define your audience
To have success with social media, you'll first need to tailor your content to the people who will see it. Your music studio will likely be followed by students, parents, and potential new families. Imagine yourself in each of their shoes. What kind of posts would you want to see? If your Instagram is primarily followed by parents of existing students, you may want to post video clips from recitals, whereas if your Facebook page is gaining followers who are considering taking lessons it would be a good idea to post about lesson availability and what makes your studio unique.
Choose your platform(s)
What social channels should you use? This will differ from studio to studio due to the unique needs and goals of your business; however, a lot of My Music Staff users communicate with their communities via Facebook and Instagram. Consider starting with just one or two social channels and see if there is a need to grow.
Create your content
When it comes to content, quality and consistency is key. Luckily there are all kinds of online resources and free templates you can use to start. The content itself should speak directly to your target audience and be visual and engaging. Recent stats show that tweets with images are 150% more likely to get retweets than text-only tweets.
Organize your social media!
Create a social calendar to keep yourself organized or use a social media scheduling platform like Hootsuite to manage your posts all in one place. Many business owners don't realize just how much time it can take to keep up with their social channels, on top of all the other work that goes into running their studio smoothly. Set aside a couple of hours every few weeks to schedule posts for the upcoming month to stay on top of it.
Social media can be overwhelming at the start, however it is a valuable tool to stay connected to your studio's community. Did you know there are also a number of groups on Facebook for music teachers to connect with each other, share resources and ask questions? As a subscribed member of My Music Staff, you'll also have access to a private group of other MMS users who share tips and ideas, talk about their studios and learn from each other! Try us out free for 30 days.
We've taken some of the hard work out of it for you and created a free social media calendar with daily content ideas – specifically designed for music teachers! Check out our Winter 2020 Social Media Calendar here.