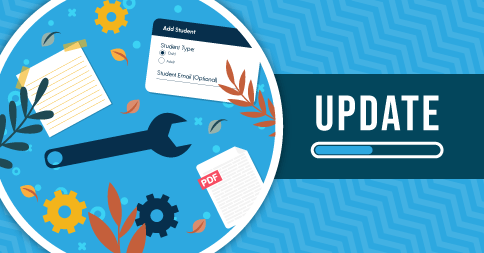 We can't believe it's November already! Daylight savings time just ended, and over at the My Music Staff office, we gained an hour of sleep – and you're gaining some fresh new updates! Check them out below:
Upgrades & enhancements:
Assigning repertoire in a group lesson is now assigned to all students in a lesson (even the absent ones) and no longer has an issue if one of the students already has that piece assigned.
When attaching files to lesson notes from Online Resources, the checkboxes will no longer appear next to folders.
We've made some changes to Online Resources in the Student Portal so it will load faster.
Student attendee lists now appear correctly in the calendar details pop-up in the Student Portal.
We've upgraded how the system handles emailing invoices. Previously they would send one at a time and attempt Auto Pay with each invoice that had it enabled, which could cause it to time out if the payment processor took too long on a payment. With this new change, it should only take a few seconds to email all the invoices.
Now, if all students are absent for an event, the "Cancel Registration" button no longer appears in the Student Portal calendar pop-up.
We've limited the email template size to prevent messages from exceeding 128KB.
When registering for an open make-up lesson through the Student Portal, students will no longer be able to select "Register for ALL occurrences."
We've improved some performance issues across the platform, particularly with Student Details, Repertoire, and the beta attendance feature. Studios making heavy use of Repertoire should see a significant improvement to page load speed.
Our other fixes:
We've fixed the scrolling issue in Safari on MacBooks (this was previously fixed on other iOS devices).
We fixed a bug that caused Contact Form web pages to crash if no Checkbox input option was chosen.
We fixed an issue where teachers/admins couldn't disable the Blocked Dates feature for a primary event category.
We fixed an issue where email & SMS reminders couldn't be added or edited for event categories.
We fixed an issue where attaching a file from Online Resources to lesson notes would result in that file's permissions being overwritten to only the student(s) in the lesson.
We added a missing space to the Uploading File message.
We updated the message on the Account & Invoices page in the Student Portal to correct the grammar.
We fixed an issue where some users with stored "Amex" cards were unable to update their card information.
We fixed an issue with emailing group lesson notes that occurred when saving attendance for an individual student in a group lesson first, then writing the group notes.
We fixed an issue that would cause manually sent invoice emails and SMS reminders to not use the studio's currency symbol (it would default to $)
We fixed an issue where the list of repertoire didn't populate when taking attendance for a group lesson.
We fixed an error that occurred when trying to edit assigned students when adding new repertoire.
We fixed an issue where repertoire titles with trailing quotes or slashes caused an issue with auto-completing text boxes on the attendance page, prevent it from saving.
Did you know? Our new beta attendance experience allows you to attach files directly to your lesson notes! Read more about it here